ICC Model Contracts for Start-ups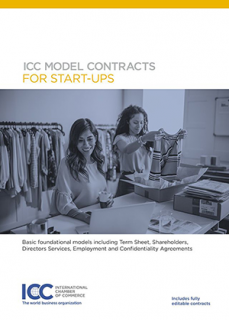 No. E815E
ISBN : 978-92-842-0592-9
Member 3,420 Baht / Non Member 4,280 Baht
Entrepreneurs and their start-up ventures are drivers of today's economy, and allow creators and businesspeople across the globe to share their innovative ideas with the world. But a great idea and enthusiastic partners are not enough—to create the best conditions for success, entrepreneurs need to ensure their businesses start off with a strong legal foundation.
This package of foundational Model Contracts for Start-ups provides a set of balanced legal models that will save new companies time and legal costs when negotiating and drafting agreements with investors and employees. The package of model documents includes: Model Term Sheet, Model Shareholders Agreement, Model Directors Services/Management Agreement; Model Employment Agreement, Model Confidentiality Agreement and a checklist of issues to consider related to assignment and transfer of intellectual property rights.

The models can be adapted to fit the particular circumstances of the transaction and will allow young businesses to engage legal counsel at a later stage in the process, to help finalize the contracts in accordance with local requirements, saving entrepreneurs precious time and money.
Buy Now