Digital Library is a delivering access to a wide range of reference materials from the world business organization to promote innovative research, learning and more. The library freely accessible, full service is subscription based. ICC content is providing in digital format with 3 channels to access;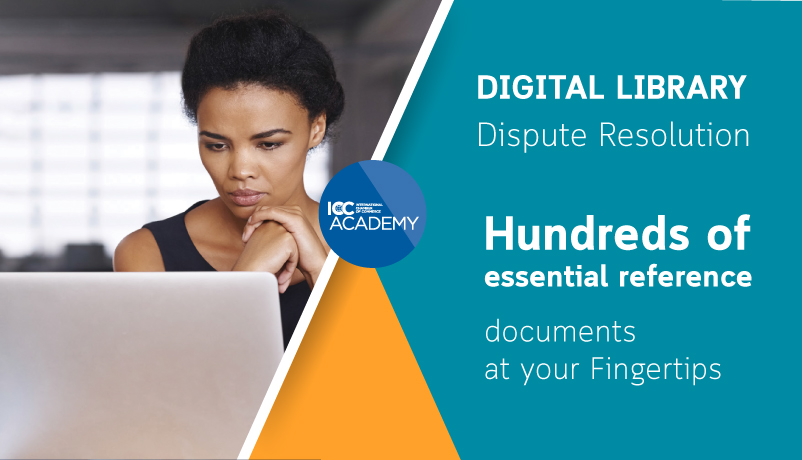 Dispute Resolution
- All ICC Dispute Resolution publications
- Awards
- Arbitration Commission reports since 1990
- Enforcement Guide (79 countries)
- ICC Dispute Resolution Bulletin since 1990
- ICC Rules since 1922
- Institute Dossiers since 2003
- Procedural decisions
- Statistical reports since 1997

Incoterms® and Commercial Contracts
- Incoterms® related publications
- All ICC Model Contracts
- Drafting and Negotiating Int Commercial Contracts
- And more publications
- Includes peer to peer discussion forum
- Latest news sent to subscribers bi-monthly

Trade Finance
- 2500 Articles
- 665 Banking Commission Opinions
- DC Insight issues
- 115 Docdex Decisions
- 1493 Legal Case Summaries
- Policy Statements
- ICC Trade Finance Rules
- Includes peer to peer discussion forum
- Latest news sent to subscribers bi-monthly

What you can access
- 2500 Articles
- 665 Banking Commission Opinions
- DC Insight issues
- 115 Docdex Decisions
- 1493 Legal Case Summaries
- Policy Statements
- ICC Trade Finance Rules
- Includes peer to peer discussion forum
- Latest news sent to subscribers bi-monthly

SUBSCRIPTION BENEFITS
- Save time
The key benefit of the service is the ability to search quickly through thousands of pages of
content to find exactly the information you require.
- Save money
It has been estimated that the time savings alone will outweigh the costs of the service in
a matter of months.
- Anytime, Anywhere access
The service is available at any Internet enabled location allowing you consult the library
worldwide while travelling or working on specific cases.
- Advanced Search options
Search by publication or by category of content. Search by Language, Author, Keyword,
or Date. Include related Documents and Footnotes. Or any combination of the above to
go directly to the information you are looking for.
Subscript now http://library.iccwbo.org?AGENT=ICC_THA
For more information:
ICC Thailand
Tel: 02 622 2183
E-mail: admin@iccthailand.or.th