Addressing Issues of Corruption in Commercial and Investment Arbitration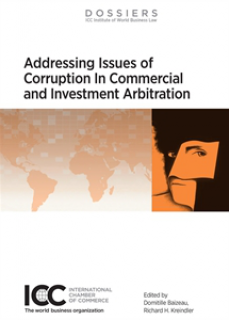 ICC Pub. No. 768
2015 Edition
Member 2,800 Baht / Non Member 3,500 Baht
Corruption is one of the most difficult issues facing international arbitrators today. This publication addresses the issue of corruption in arbitration in a systematic way. It balances theoretical and practical considerations, takes into account the different perspectives of the parties, counsel and arbitral tribunal, and clearly distinguishes between commercial and investment arbitration.
The topics covered include the impact of corruption on "gateway issues" of arbitrability, jurisdiction, admissibility and procedure; the arbitrator's rights and duties to investigate and report corruption. It also addresses the most recent thinking and case law on the burden and standard of proof for allegations of corruption as well as the consequences and effects of allegations or positive findings of corruption on the dispute on the merits and the enforceability of the award respectively.
The book identifies best and worst practices and equips the reader with tools and techniques to meet the challenge of corruption head on.
Download
Buy Now