Handbook of ICC Arbitration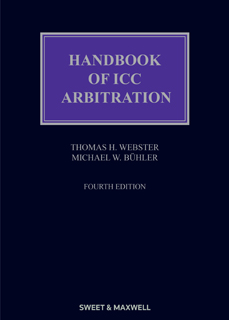 ICC Pub. No.988
2018 Edition
Member 7,760 Baht / Non Menber 9,700 Baht
Now in its fourth edition, the Handbook contains a 700-page article-by-article commentary on the 2017 Rules, ICC Notes and practice and developments in case law and soft law.
It focuses on:
the application in practice of the Emergency Arbitrator Provisions;
the new Expedited Procedure Provisions;
the Expedited Determination Procedure for Manifestly Unmeritorious Claims and Defenses and the impact on applications for Partial Awards;
the application (and increased transparency) of ICC procedures as reflected in particular in the most recent ICC Note to the Parties and Arbitral Tribunals on the Conduct of Arbitration under the ICC Rules;
the ICC's practice with respect to disclosure by arbitrators and a detailed table of the results of challenge decisions and discussion of recent US and UK cases on conflicts of interest of arbitrators;
the ICC's efforts to increase the efficiency of ICC arbitration by shortening the period for Terms of Reference, requiring an early Procedural Timetable, and requiring Tribunals to render awards promptly or be subject to financial consequences;
the developments in soft law taking into account in particular the IBA's September 2016 report on soft law and the reference in the ICC Note for example to the IBA Guidelines on Party Representation in international arbitration;
dealing with various applications from the perspective of arbitrators and counsel regarding in particular bifurcation, applications for security for costs and due process issues relating to admitting or excluding evidence.
Written by practitioners based on experience as arbitrators and counsel in dozens of cases each year, this handbook reflects the latest practice in ICC arbitration.
Buy Now